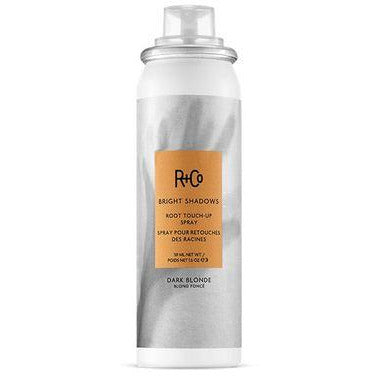 R+CO Root Camouflage Spray
R+Co's Bright Shadows Root Touch Up Spray - Instantly Covers Regrowth + Grey Between Colour Appointments!

Give roots the boot. This breakthrough root touch-up spray instantly covers regrowth, grey or otherwise, between colour appointments no stickiness, dustiness, or transfer. Featuring a target actuator for mess-free application, the multi-dimensional shade provides coverage that lasts until the next shampoo.
Good for: Anyone looking to cover greys and re-growth until the next hair colour appointment.
Matches hair colour levels 1 + 2.
Vegan + Cruelty-Free.
Formulated without ammonia or peroxide.

Ingredients:
Pearl Extract, rich in minerals and amino acids, helps to regenerate, moisturize hair and provides hair with shine.
Biotin, helps to thicken hair and stimulates hair growth and overall hair health.
Treated Pigment, provides multidimensional temporary coverage and disguise grey roots.
Mica, mineral derived pigment reflects light for a natural, multidimensional shine.
Tapioca Starch, provides a natural texture, helps to absorb oil at the roots for long-lasting effect.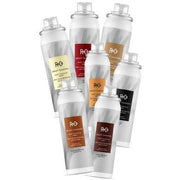 R+CO Root Camouflage Spray